Reincarnation and the Evolution of My Soul Course
April 11, 2021 @ 11:00 am

-

2:30 pm

$55.00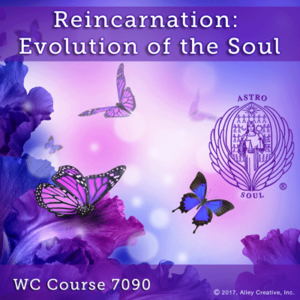 Spiritually you are energy evolving from lifetime to lifetime? Have you had inklings of your Past Lives? Who were you male, female, understanding your relationships, or your profession/skills?
Each lifetime you are growing from your experiences. It takes many lifetimes to develop stronger and learn the lessons you need.
Discover more about you as a soul and what you are here to achieve and master now.
Re-awaken how important your life is today from the perspective of reincarnation and the evolution of the soul.
What you will experience in this Wayshowers College course:
**Become aware of a Past LifeTime where you mastered a skill or art that helps you today in your current life.
** Learn as a soul you are spiritually evolving through your lifetime experiences and returning back to Planet Earth to grow.
**Experience Astro-travel to understand how you as a soul are expanding your state of consciousness.
** Release unwanted habits for clarity in fulfilling your soul's purpose.
**Discover the Power of regrouping yourself as you move through your life.
Delight in recharging your energy, gain an understanding of self, and realize your life can take on new joys and meaning!!! Be with like-minded others.
Venue: Eclectic Reikiology &  Metaphysical Center, 2760 Lake Sahara Dr. Las Vegas, Nv (LIVE CLASS)
You will receive a Wayowers College Certificate for attending this course through the mail.
April Azzolino,
www.aprilazzolino.com
, Certified Wayshowers College Educator/Consultant is your Instructor for this course. April is also a Past Life Regression Specialist. She has been sharing her love of practical spiritual methods evolving a soul's growth nationally since 2009.