Discover Your New Spiritual Horizons Foundations Class
April 25, 2021 @ 11:00 am

-

2:30 pm

$55.00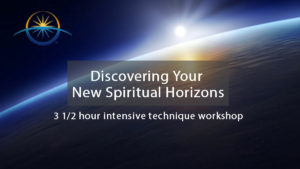 Register Here:for this Live Class here: https://www.eclecticreikiology.com/events-1/discover-your-new-spiritual-horizons-foundations-class
Arise – Transform to the REAL YOU – an energetic being with immense potential for inner peace. In this practical and powerful interactive methods workshop, you will:
Experience the power of your energy and learn to direct it to heal yourself and others, gain self-awareness and reach your goals in life.
? Feel powerful healing energy and develop your own healing abilities.
? Understand the power of being true to yourself and "Your three loyalties."
? Become a healing influence in your community
Awaken the intuitive hunches you've been experiencing your entire life. You'll develop trust in your intuitive sensitivity.
? Develop your psychic tune-in techniques that show you how to sense and discern energy.
? Discover how to apply your ESP as a unique lifestyle to be in your best timing and place.
? Raise your energy/aura to a 100% positive and instantly relaxed vibration. Using this
simple technique will attune you to your Guidance in a snap. (You'll probably feel chills
too!)
Clarify who you are, where you have come from and what your purpose in life is.
? Know the reasons why you attracted the environment and people in your life.
? Reduce uncertainty. Become confident of what is right for you – in any environment
? Learn the three dimensions of Life After Death
? Discover your personal relationship with the Universe and your life on Planet Earth.
? Experience soul-to-soul communication – the feeling of being at one with all things and
people.
It is my joy to bring these methods that have helped me so much. To be with like-minded people who want to grow without dogma is both fun and fulfilling!
In the workshop you will strengthen your inner foundation to meet any challenge in life. As the New Spiritual Horizon founder shared,
"Happiness, success and abundance are already yours. All you need to do is to become master
of yourself." Dr. Francisco Coll
Lose the FEAR. Find Energy And Relief
Investment $55.00
Register here today: https://www.eclecticreikiology.com/events-1/discover-your-new-spiritual-horizons-foundations-class