Discover Your New Spiritual Horizons online class
May 30, 2020 @ 12:30 pm

-

4:00 pm

$45.00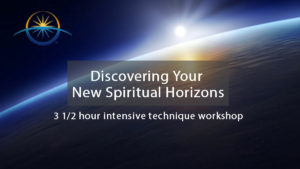 It's time to discover and experience the Real You; an energetic being with immense potential.
In this workshop you'll experience the power of your energy and learn to direct it to heal yourself and others, gain self-awareness and reach your goals in life.
You'll awaken the intuitive hunches you've been experiencing your entire life. You'll develop trust in your intuitive sensitivity.
You have a unique life purpose. It's time to clarify who you are, where you have come from and what your purpose in life is.
You will:
Clearly understand why you are here on Planet Earth, where you came from and the reason why you attracted the environment and people in your life.
Discover your personal relationship with the Universe and your life on Planet Earth.
Develop your psychic tune-in and experience techniques that show you how to sense and discern energy and how to make it practical.
Raise your energy/aura to a 100% positive and relaxed vibration. Using this simple technique will attune you to your Angels instantly. (You'll probably feel chills too!)
Experience soul-to-soul communication. Experience the feeling of being one with all things and with all people.
Feel powerful healing energy and develop your own healing abilities.
Understand the power of being true to yourself and "Your three loyalties."
Our program facilitators are among the most skilled and ethical people ever to engage in spiritual energy work – top shelf in every way.
It is our joy to bring these methods that have helped us so much. To be with like-minded people who want to grow without dogma is both fun and fulfilling!
In the workshop you will strengthen your inner foundation to meet any challenge in life. As the New Spiritual Horizon founder shared,  "Happiness, success and abundance are already yours. All you need to do is to become master of yourself." Dr. Francisco Coll
Lose the FEAR. Find Energy And Relief.
Investment $45.00
Register Today!